GALLERY EXHIBITIONS 2021
CURRENTLY SHOWING…
CONTEMPORARY CERAMICS: FORM THROUGH FIRE
4 SEPTEMBER - 22 OCTOBER 2021
The elemental alchemy of clay dug from the earth, formed by hand, transmuted by fire, is celebrated in this curated show of ceramics by leading, and up-and-coming UK ceramicists new to the gallery.
Featuring Björk Haraldsdóttir; Ho Lai; Nicholas Lees; and Paul Wearing, alongside some of the gallery's leading permanent ceramicists - including Tim Andrews; Ruth King; Gabriele Koch; Stephen Murfitt, and Mitch Pilkington, many of whom are represented in international public collections, such as the V&A Museum, and MOMA New York.
To view all the works in the show
---
Virtual Tour of CONTEMPORARY CERAMICS: FORM THROUGH FIRE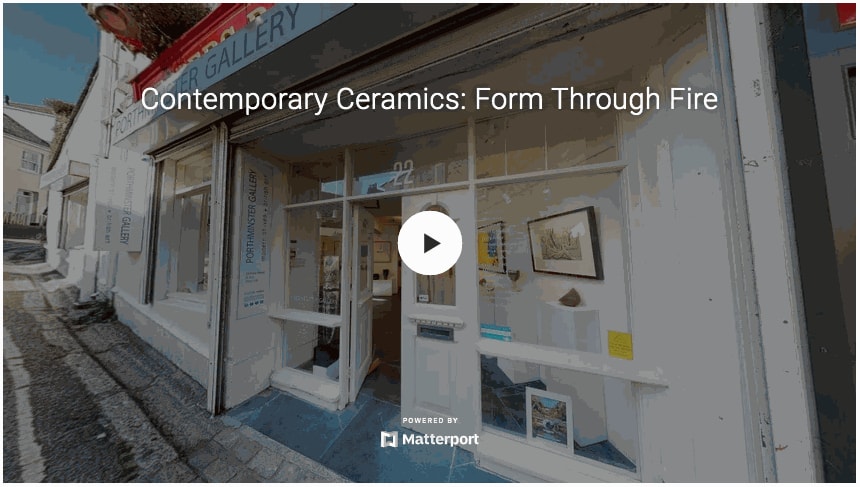 ---
FORTHCOMING…
Cornwall's Prehistoric landscape is the focus of a new exhibition of guest artists' works at Porthminster Gallery, St Ives.
The dramatic landscape of west Cornwall has captured the imagination of writers and artists for three centuries, and now this ancient and sacred landscape is explored and celebrated anew in this thoughtfully curated show of artworks by guest artists in Penwith Rhythms: Ancient and Sacred Landscape, a new exhibition featuring Sam Boughton; Melvyn Evans; Lisa Pettibone; Tommy Rowe, and Charlotte Jones, at Porthminster Gallery from 23 October.
Welcome to the Porthminster Gallery at 22 Fore Street in St Ives, Cornwall

St Ives, Cornish and British Art for sale at one of Cornwall's Premier Art Galleries | Modern and Contemporary Art For Sale | Buy Signed Prints, Paintings, Sculpture, Ceramics, Glass

We are an award-winning Cornish art gallery, and one of the premier art galleries in Cornwall.

Curated exhibitions and shows of contemporary and modern art for sale by St Ives, Cornish and British Artists. Paintings, original signed prints, sculpture, and ceramics are exhibited alongside collectable Post-War and Modern Art.

Art for sale by: WILHELMINA BARNS-GRAHAM, TREVOR BELL, PETER BLAKE, SANDRA BLOW, PATRICK CAULFIELD, LYNN CHADWICK, MAURICE, COCKRILL, BARRIE COOK, TERRY FROST, ANTONY GORMLEY, ARBARA HEPWORTH, PATRICK HERON, ROGER HILTON, DAVID HOCKNEY, HOWARD HODGKIN, BRYAN INGHAM, ALBERT IRVIN, PETER LANYON, MARGARET LOVELL, MARGO MAECKELBERGHE, HENRY MOORE, BEN NICHOLSON, EDUARDO PAOLOZZI, VICTOR PASMORE, BRYAN PEARCE, WILLIAM SCOTT, JOE TILSON, ALFRED WALLIS

Please click here to view current stock of collectable 20th century art