As featured on BBC TV, The Times newspaper, and voted winner of 'The Best Art Gallery in Cornwall' Award by readers of Cornwall Today magazine, we are one of the largest private commercial art galleries in St Ives, with an excellent reputation for our expertly curated shows of quality original art.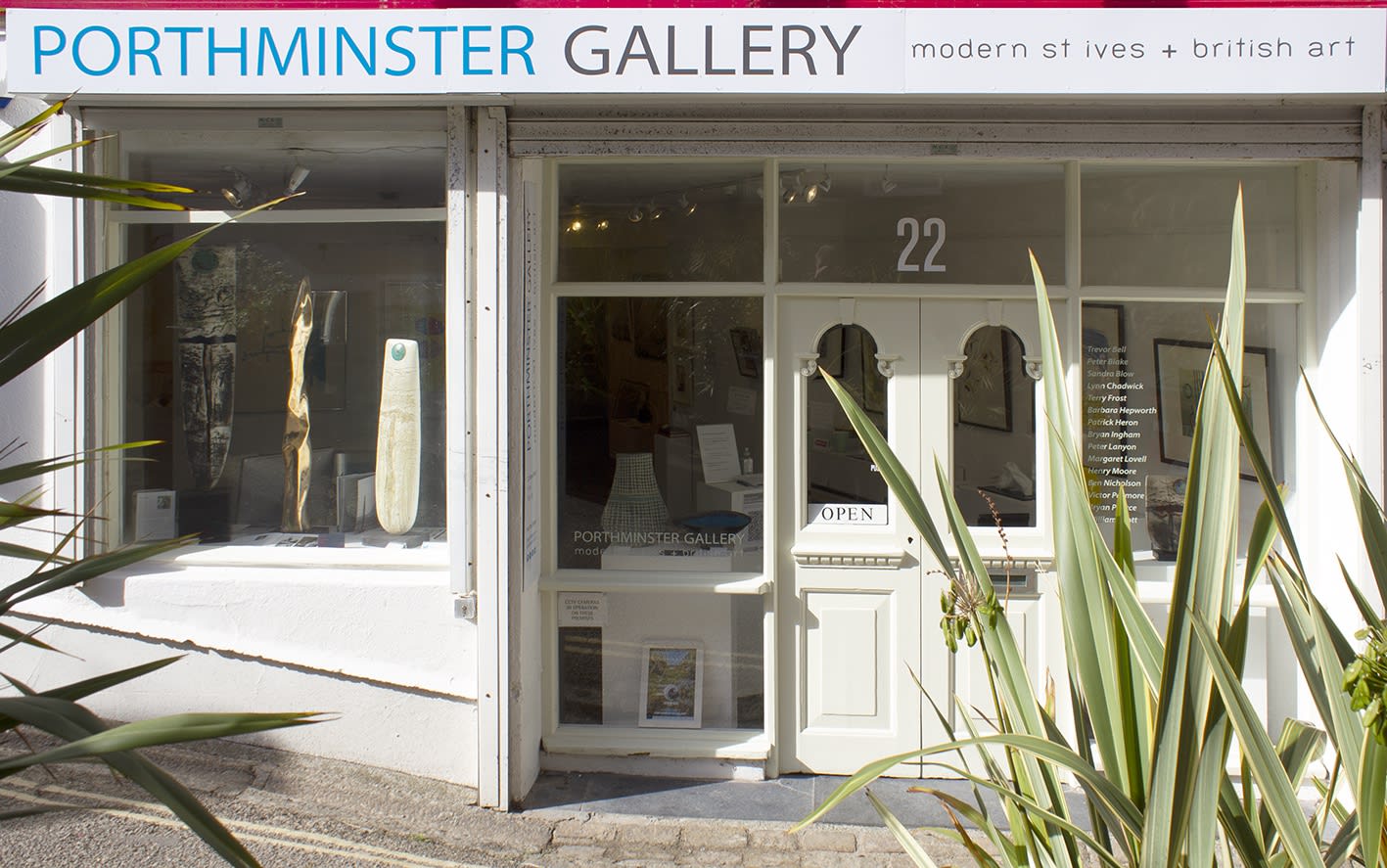 Our bright and inviting main gallery at 22 Fore Street is close by the Barbara Hepworth Museum and Sculpture Garden, and just a few minutes' walk to the town's bus/rail stations, and car parks.
Founded in 1999 by art gallery directors David Durham and Dee Bray, the Porthminster Gallery champions art by the very best collectable, and up-and-coming young names, in British painting, sculpture, ceramics, and printmaking. The gallery relocated to its current premises in September 2020, after ten years based at Westcott's Quay in St Ives.
As the only gallery in the town to specialise in highly-collectable artworks by major Post War Modern St Ives and British Artists, we hold a large and changing stock of works.
Artists usuallly represented include: Wilhelmina Barns-Graham; Trevor Bell; Peter Blake; Sandra Blow; Lynn Chadwick; Terry Frost; Barbara Hepworth; Patrick Heron; Roger Hilton; David Hockney; Howard Hodgkin; Bryan Ingham; Matthew Lanyon; Peter Lanyon; Margaret Lovell; Alexander Mackenzie; Denis Mitchell; Henry Moore; Ben Nicholson; Victor Pasmore; Bryan Pearce; William Scott – please enquire.

Our friendly and knowledgeable team look forward to welcoming you.

Interior views of the Porthminster Gallery
---
Contact
Directors: David Durham & Dee Bray-Calvert
Assistant Manager: Catherine Lewin
Gallery Assistant: Emily Sarah Smitheram
Opening Times: Monday – Friday: 10am – 5pm | Saturday & Sunday: 11am - 4pm.
Address: Porthminster Gallery | 22 Fore Street | St Ives | Cornwall | TR26 1HE
Email: info@porthminstergallery.co.uk
Telephone: 01736 795888
Google Maps – Porthminster Gallery
<![CDATA[ function init_map(){var myOptions = {zoom:16,center:new google.maps.LatLng(50.2115774,-5.479029399999945),mapTypeId: google.maps.MapTypeId.ROADMAP};map = new google.maps.Map(document.getElementById("gmap_canvas"), myOptions);marker = new google.maps.Marker({map: map,position: new google.maps.LatLng(50.2115774, -5.479029399999945)});infowindow = new google.maps.InfoWindow({content:"Porthminster Gallery
Westcott's Quay
TR26 2DY St Ives" });google.maps.event.addListener(marker, "click", function(){infowindow.open(map,marker);});infowindow.open(map,marker);}google.maps.event.addDomListener(window, 'load', init_map); // ]]>
Save
Save
Save